Vibrant Research Culture Sows Seeds for Discovery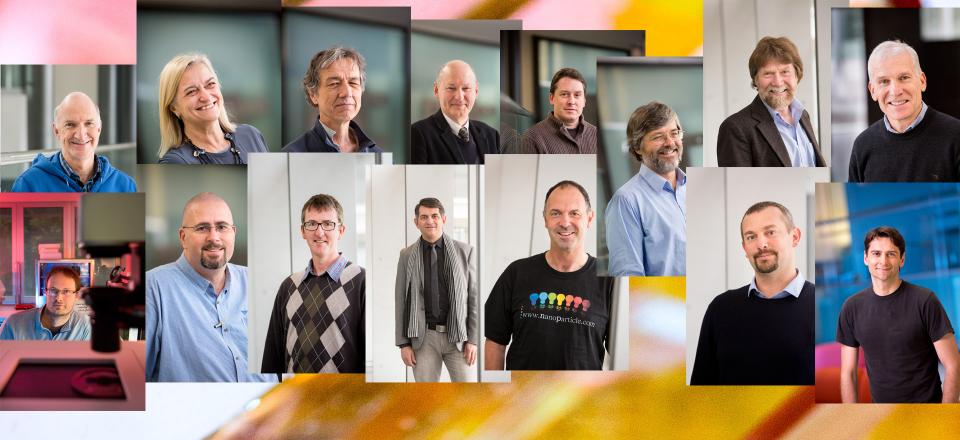 In results announced on Friday, 30 October 2015, Bio21 Molecular Science and Biotechnology Institute research groups were awarded nearly $7 million ($6,226,200) in Discovery Project (DP) funding.
Consortia led by Bio21 researchers were also awarded three LIEF grants.
In total, Bio21 researchers were awarded a total of $7,573,700 across 15 successful grants. This success has occurred under extremely competitive conditions.
"This funding will ensure continuity of key staff and research programs in many groups. For the Bio21 Institute, it indicates a highly vibrant and collaborative research culture and reinforces the institute's status as a hub of excellence in molecular and biotechnology research," said Bio21 Institute Director, Professor Malcolm McConville.
"This is an outstanding result.  A perfect year to have this hit being the 10 year anniversary.  I think the success reflects the breadth of the research environment of Bio21 and the quality of researchers.  Multi-disciplinary environments take a while to mature, but now we're reaping the rewards," said Professor Paul Gleeson, Head of the Department of Biochemistry, University of Melbourne.
The ARC Discovery grants support a breadth of research fields, from the development of solar cell technology, understanding the immune system, to ensuring the survival of endangered species in the face of climate change.
"We are delighted with this support from the ARC. There is growing recognition that sunlight provides the simplest source of renewable energy. A team of chemists and engineers at the University of Melbourne and Monash University believe that there is room to drastically improve current solar cells by careful modification of the solar cell surfaces and interfaces. The ARC funds will enable us to test this idea. These results continue to help position Australia as a global leader in solar energy research. We attribute our success in this highly competitive funding system to the strong infrastructure offered by the Bio21 Institute and New Horizons buildings at Melbourne and Monash respectively, " said Professor Paul Mulvaney.
"This grant will support a major four year program that will seek to understand the repertoire of microbial lipidic species that elicit innate immune responses. The work will enrich our understanding of how our body responds to infections and maintains stable populations of beneficial microbes within our gut microbiota," said Professor Spencer Williams.
ARC Discovery Grants:
Professor Phil Batterham to receive $369,600 over three years to study nicotinic acetylcholine receptors that are targeted by insecticides used to control the major pests that afflict agriculture and domestic pets.
Associate Professor Bogoyevitch to receive $388,800 over three years to examine new regulatory mechanisms for an important signalling enzyme in the cell nucleus.
Dr Paul Donnelly to receive $377,600 over three years to develop new synthetic coordination chemistry for making new copper and technetium complexes to assist in the diagnosis of neurodegeneration.
Professor Paul Gleeson to receive $471,500 over three years to determine the function of the Golgi ribbon structure in higher order cell functions, including metabolism, cell cycle, and cell polarity in both cultured cells and whole organisms.
Professor Ary Hoffmann and Andrew Weeks to receive $342,300 for three years to evaluate a promising but rarely used method of population recovery by genetically rescuing populations of two threatened Australian mammals: the mountain pygmy possum and the eastern barred bandicoot.
Associate Professor Michael Kearney and Professor Ary Hoffmann to receive $360,800 over three years to characterise and predict the responses of invertebrates to climate variability and climate change, in particular investigating the phenomenon of 'diapause'.
Professor Paul Mulvaney to receive $687,000 over three years to explore the potential of self-assembled dipole layers (molecular and inorganic) as a mechanism for separating charge carriers at semiconductor surfaces, to ultimately design more efficient solar cells and other light-harvesting molecular systems.
Professor Paul Mulvaney and colleagues to receive $770,000 over five years to develop new technology, to enable simultaneous measurement of the mass and conformation of single molecules.
Professor Michael Parker to receive $620,500 over five years to unravel missing molecular details of how a major superfamily of proteins is able to drill holes in cell membranes to provide fundamental insights in understanding vital physiological processes across all kingdoms of life to engineer membrane pores as highly specific sensors for a variety of molecules with nanotechnology and biotechnology applications.
Professor Eric Reynolds and colleagues to receive $491,100 over three years to develop a new platform technology for the development of antimicrobial agents by combining expertise in polymer science and antimicrobial studies.
Dr Stuart Ralph and colleagues to receive $336,400 over three years to provide a detailed picture of how alternative splicing is regulated in four biologically diverse apicomplexan parasites, and to explain why parasites need this molecular trick to survive.
Professor Frances Separovic to receive $377,600 over three years to develop methods to determine the detailed structure of biologically important molecules in live cells to better understand how biomolecular structure is related to disease.
Professor Jose Villadangos to receive $633,000 over three years to understand how a family of enzymes called MARCHs regulate expression and localisation of immunoregulatory receptors within cells by post-translational addition of a small protein tag called Ubiquitin.
Associate Professor Spencer Williams to receive $631,626 over four years to develop new approaches to chemically synthesise bacterial and fungal glycolipids and develop a molecular-level understanding of their effect on the immune system.
LIEF grants:
$500,000.00 awarded to Bio21 researchers Professor Gavin Reid, Professor Malcolm McConville, Dr Nicholas Williamson and colleagues for the acquisition of an ultra-high-resolution mass spectrometry facility for lipidomics research.
$800,000.00 awarded to Bio21 researchers Professor Frances Separovic, Dr Marco Sani and Dr David Keizer for the acquisition of a dynamic nuclear polarisation system for molecular structure determination.
Dr Paul McMillan and colleagues were awarded $347,500 to expand the current super-resolution confocal microscopy facility.
The Dean of Science, Professor Karen Day, was delighted to congratulate the recipients of the various grants;
I'd like to acknowledge the work of those academics who acted as mentors, read grants and provided their own successful applications for review and also to Nicola Pressling who was instrumental in developing a mentor scheme for the DECRA applicants and arranging mock ARC review panels for DP applicants. This approach has clearly paid off and is a strategy the Faculty will continue to adopt to maximise our success in major grant schemes.    
Professor Day also acknowledged that those who were not successful in the DP round, that 7 applicants were ranked in the top 10% unsuccessful applications and further 9 in the top 10-25%. The Faculty will announce plans for its "near-miss grants" scheme in mid-Nov and some of these applicants will be eligible to apply for funding.