Williams Group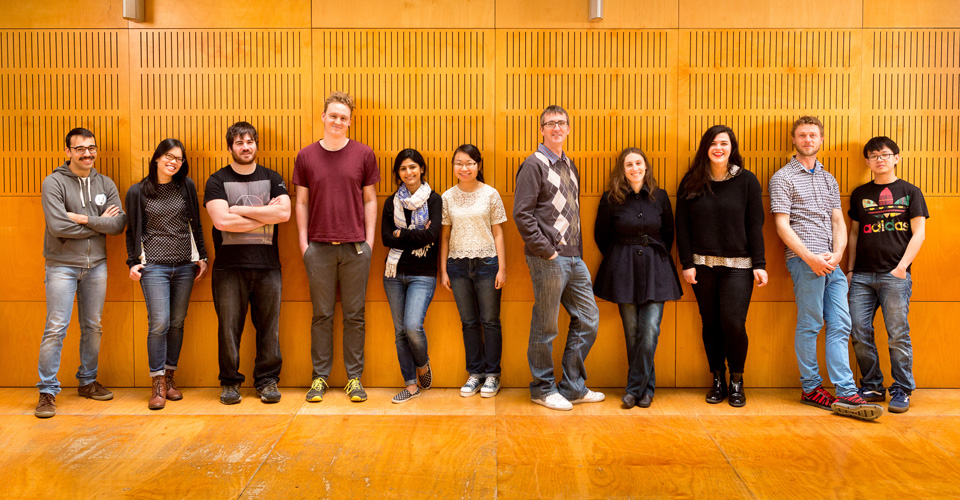 "Synthetic organic chemistry provides the ability to shape new molecules, one-atom-at-a-time, to create new molecular species endowed with novel functions. Using our skills in organic chemistry, and in particular carbohydrate chemistry, we create molecular probes that enable study of enzyme mechanism, microbial pathogenesis, and glycoimmunology." - Spencer Williams.
Research
The Williams laboratory focuses on the design and synthesis of organic small molecules that we use to probe biological systems. Our research areas include: mechanism and inhibition of glycosidases, especially mannose-processing enzymes; pathogen-specific carbohydrate processing pathways in the human pathogens Leishmania spp. (Leishmaniasis), and Mycobacteria spp. (tuberculosis); total synthesis of immunogenic glycolipids to understanding their roles in innate immunity; and the development of small molecule therapeutics (medicinal chemistry). Our work is strongly collaborative and we have productive relationships with biochemists, cell biologists, structural biologists and immunologists.
Interests
Carbohydrate Chemistry and Biochemistry
Glycolipid Immunology: Total synthesis and structure-activity relationships
Medicinal Chemistry and Drug Design
Techniques
Modern organic synthetic methods, carbohydrate chemistry and enzyme kinetics.
Group Members
Postdoctoral Fellows and Research Assistants
Dr Phillip van der Peet
Dr Janice Chan
Dr Zalihe Hakki
Christopher Bengt, Honorary visitor
Graduate Students
PhD Students
Zalihe Hakki
Gaetano Speciale
Stephanie Bellmaine (joint with Prof M Pera)
Sayali Shah
Tyson Belz
Dylan Smith
Pearl Fernandes
Marija Petricevic
Satvika Burungupalli
Palika Abayakoon
Tram Nguyen
Masters Students
Seep Arora
Meesha Shivadasani
Xiaoji Bryce Chen
Amani Alhifthi
​Charles Cowcher
​Eric Zhang 
Hind Taher 
Honours Student
Janice Mui 
Biography
Spencer Williams obtained his BSc and PhD (under the supervision of Professor Bob Stick) at the University of Western Australia (UWA) (completed 1998, conferred 2001). For 1998-2000 he was an Izaac Walton Killam Postdoctoral Fellow in the laboratory of Professor Stephen G Withers at theUniversity of British Columbia, Canada, where he worked on glycosidase inhibitors. For 2001-2002 he was a Howard Hughes Medical Institute Fellow of the Life Sciences Research Foundation in the laboratory of Professor Carolyn Bertozzi, based at the University of California, Berkeley, USA. Since July 2002 Spencer has been a member of the faculty in the School of Chemistry. His current interests include Chemical Biology: the application of chemical synthesis, and in particular carbohydrate chemistry, to biological problems; and Medicinal Chemistry: the development of new therapeutic agents for treatment of diabetes, cardiovascular disease, and pain. He has authored over 130 journal articles, 11 patents, 6 book chapters, and co-authored a textbook, Carbohydrates: The Essential Molecules of Life (RV Stick and SJ Williams, 2009, Elsevier). He is a co-founder of FibrotechTherapeutics (sold to Shire Plc in 2014) and OccuRx, and a shareholder and advisor to Armaron Biosciences Pty Ltd, Melbourne-based biotechnology companies.