ARC funds Bio21 projects, researchers and infrastructure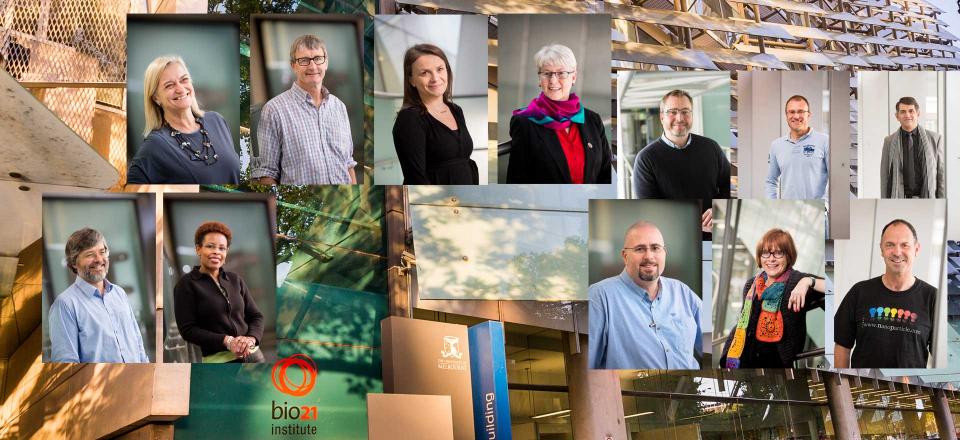 2 November 2016
Congratulations to members of the Bio21 Institute who were successful in the ARC Discovery Project, LIEF and Discovery Early Career Research Award grant funding schemes this year.
In results announced today, Bio21 groups were awarded $2.34 million in Discovery Project funding and also led or were involved in five successful LIEF grants which received $4.12 million in ARC funding.
Two Bio21 early career researchers were also awarded $732,000 with DECRA fellowships.
This success has occurred in a very competitive environment and will ensure continuity of key staff and research programs for many groups, as well as major investments in the institute's leading technology platforms.
For the Bio21 Institute, it indicates a highly vibrant and collaborative research culture and reinforces the institute's status as a hub of excellence in molecular and biotechnology research.
Bio21 researchers were awarded the following grants:
Discovery Early Career Researcher Award:
Dr Hamish McWilliam (Villadangos lab), to study the role of a host molecule in immune protection, $372,000 over 3 years.
Dr Brett Paterson (Donnelly lab), to produce homogeneous and fully functional constructs that may be used as imaging agents, $360,000 over 3 years.
ARC Discovery Project:
Dr Michael Griffin (DP170104046) The early structural assembly of high-density lipoproteins $379,000 over 3 years.
Associate Professor Daniel Hatters & Professor Gavin Reid (DP170103093) Surveillance of the mechanisms controlling proteome foldedness, $466,500 over 3 years.
Prof Jose Villadangos (DP170102471) A mechanism for pathogen detection highly conserved in mammals, $513, 500 over 3 years.
Dr Diana Stojanovski; Dr Dedreia Tull; Professor Thomas Langer (DP170101249) Mitochondrial biogenesis in mammalian cells, $380,500 over 3 years.
Associate Professor Uta Wille; Professor Richard O'Hair (DP1700100035)Environmental polymer degradation, $286,000 over 3 years.
Professor Edmund Crampin; Dr Vijay Rajagopal; Professor Dr Hywel Roderick; Professor Christian Soeller (DP170101358) How calcium makes the heart grow, $316,000 over 3 years.
LIEF grants:
Professor Michael Parker; Professor James Whisstock; Professor Leann Tilley; Associate Professor Eric Hanssen; Professor Frances Separovic; Professor Jamie Rossjohn; Associate Professor Max Cryle; Professor Juliet Gerrard; Associate Professor Hans Elmlund; Professor Alan Cowman; Dr Daniela Stock; Professor Ricky Johnstone; Dr Lawrence Lee; Associate Professor Paul Ramsland; Professor Robert Pike. LE170100016 - a collaborative electron microscopy network for structural biology. $850,000.
Professor Jonathan White; Dr Michael Griffin; Associate Professor Colette Boskovic; Dr Peter Barnard; Dr Jason Dutton; Dr David Turner; Professor Philip Andrews; Dr Christopher Ritchie; Professor Cameron Jones; Associate Professor Brendan Abrahams; Eminent Professor Keith Murray; Professor Stuart Batten - LE170100065 - Molecular Structure Elucidation Facility. $830,000.
Professor Justin Zobel; Professor Michael Parker; Professor Andrew Ooi; Professor Richard Sandberg; Associate Professor Andrew Lonie; Professor Salvy Russo; Professor Toby Allen; Professor Irene Yarovsky; Professor Tiffany Walsh; Professor John Grundy; Professor Maria Forsyth; Professor Brian Smith - LE170100200 A high-performance cloud resource for computational modelling. $640,000
Professor Paul Mulvaney and Bio21 contributed to LE170100118 led by Monash University. UltraTEM: Resolving the structure of matter in space, energy and time. $1.8M.