Renewable energy focus for new ARC Centre of Excellence in Exciton Science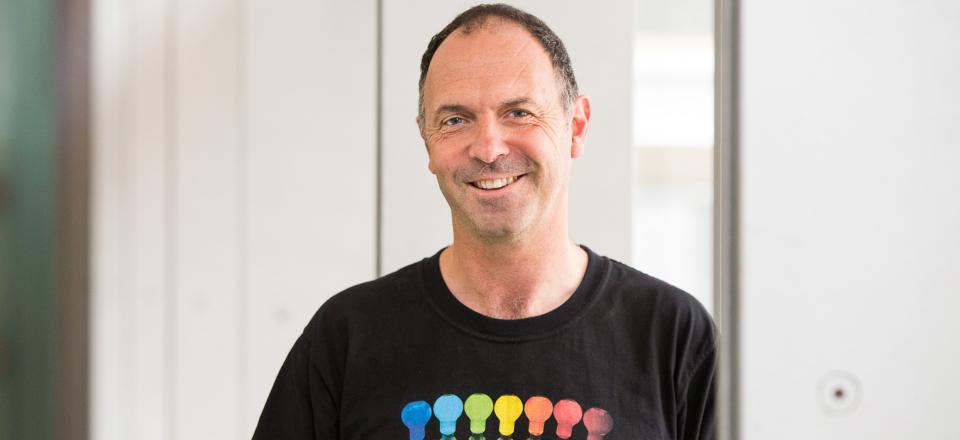 8 September 2016
The University of Melbourne will host a new international research hub, dedicated to making Australia more economically competitive through better energy use. The Australian Research Council today announced funding for the Centre of Excellence in Exciton Science, which will develop next-generation energy and security technologies by manipulating light in unique ways.
The Centre's research will focus on 'full-spectrum' photovoltaics through to printable electronics, energy-efficient lighting and displays, security labelling and optical sensor platforms for defence. The $35M Centre will be based at the University of Melbourne and will include an international team of researchers to drive innovation and improve Australian's energy production.
"Our research focus is to manipulate the way light energy is absorbed, transported and transformed in advanced molecular materials", said Professor Paul Mulvaney, Director of the Centre of Excellence in Exciton Science, who is based at the University of Melbourne's School of Chemistry and Bio21 Institute. "By creating new ways to harness and manipulate light, we will change the ways Australians think about energy," added Prof Mulvaney.
"Improving energy efficiency will have a positive impact on the sustainability of the Australian environment, generate unique materials processing techniques as well as new opportunities for industry and related employment opportunities."
The new ARC Centre of Excellence in Exciton Science also includes chief investigators Prof Kenneth Ghiggino, Assoc Prof Trevor Smith, Prof John Sader and Dr Wallace Wong from the University of Melbourne. Other organisation involved in the Centre include RMIT University, Monash University, The University of Sydney, The University of New South Wales, CSIRO, Defence Science Technology Group, Reserve Bank of Australia, Chongqing Institute of Green and Intelligent Technology - Chinese Academy of Sciences, University of Ulm, Huazhong University of Science and Technology, University of California, Berkeley, University of Bayreuth and Shandong University, China.
With input from across both technical and social sciences, the Centre for Exciton Science will create a dynamic and integrated team, which comprises mathematicians, chemical and physical scientists and engineers, as well as leading education experts, environmentalists, architects and business consultants. Professor Jim McCluskey, Deputy Vice-Chancellor of Research said that the announcement is due recognition for the hard work of the Centre's Director, Professor Mulvaney and his fellow Chief Investigators. "We're delighted and extremely proud that the University has been chosen to be the host of this Centre. This is a Centre that is closely aligned with the University's long-term research strategies." Prof McCluskey said.
"The Research at Melbourne strategy identified the support of sustainability and resilience as one of the three grand challenges our researchers would seek to address, and this Centre will be at the heart of our work on issues of sustainable energy supply, energy efficiency and resilient architecture." Research programmes will span high-throughput computational screening, single molecule photochemistry and ultrafast spectroscopy and embrace innovative outreach and commercial translation activities.
The Centre will be supported by an Advisory Board, which includes Nobel Prize winner Prof Alan Heeger, whose commitment recognises the strength of purpose and vision of the Centre. Professor Karen Day, Dean of the Faculty of Science said that "..the Centre would ensure that Australia is well positioned to contribute to one of the greatest challenges of the 21st century – the development of renewable energy sources and more efficient energy use across society".
More Information
0430 588 055
nhannink [at] unimelb.edu.au