New Research Training Centre to lead the way for advanced chemical manufacturing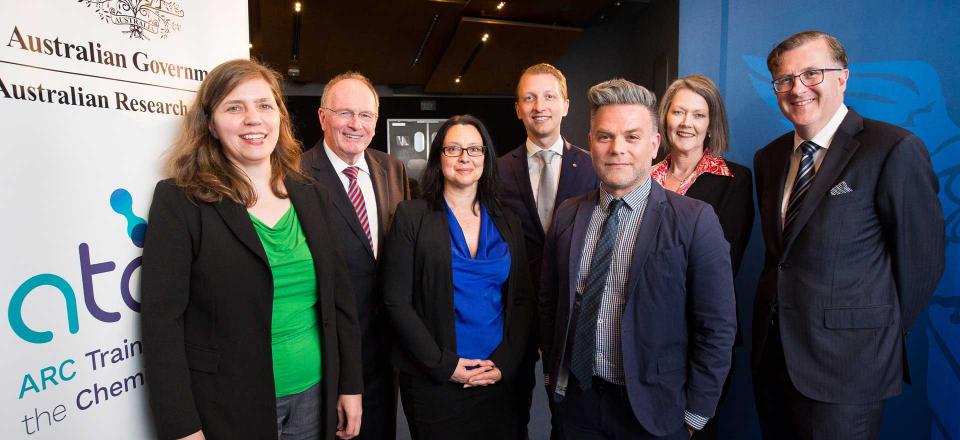 Friday 21 September
Senator for Victoria, James Paterson, launched the ARC Training Centre - Chemical Industries (ATCI), led by Dr Tash Polyzos, at Bio21 Institute on Friday 21 September.
The ATCI will deliver the innovative Masters of Industrial Research degree, making chemical education more commercially relevant. Students will spend a minimum of 12 months embedded with an industry partner, conducting an R&D project led by the industry partner.
"The new ARC Training Centre will help address the chemical industry's need for highly-skilled STEM graduates that are equipped with excellent academic training, as well as relevant industry skills and experience," Senator Paterson said. "The centre will mentor the next generation of research talent, giving early career researchers experience in conducting industry-focused research."
University of Melbourne Vice-Chancellor Glyn Davis welcomed the new ARC Training Centre, which he said would "significantly boost STEM opportunities for early career STEM graduates, and build closer links between graduates and employers. We also believe it will provide opportunities to a diverse range of graduates, as we seek to continually increase female participation in STEM."
The ARC Training Centre - Chemical Industries will be led by The University of Melbourne, in collaboration with The University of New South Wales, Swinburne University of Technology, Chemistry Australia; CSIRO, Duluxgroup (Australia), Qenos, PPG Industries and the Trustee for DCS Technical Trust.