Professor Frances Separovic recognised as IUPAC Distinguished Woman in Chemistry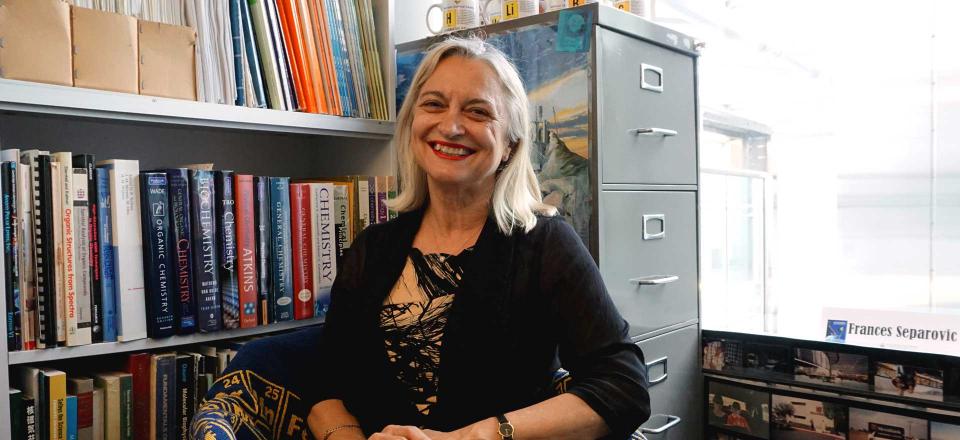 8 March 2017
To celebrate International Women′s Day this March 8th, IUPAC announced the awardees of the IUPAC 2017 Distinguished Women in Chemistry or Chemical Engineering.
The Bio21 Institute's Professor Frances Separovic is one of 12 women to be honoured today.
"It's a very special Women's Day for me," says Professor Separovic. "I feel honoured."
Frances Separovic has been a pioneer for women in  biophysics and chemistry, being one of the first five women - including the University of Melbourne's Provost, Professor Margaret Sheil - to be appointed a professor of chemistry in Australia.
Professor Separovic heads a laboratory group at the Bio21 Institute, that studies the structure-function relationships of biomolecules in membranes at the atomic level using primarily nuclear magnetic resonance spectroscopy (NMR). 
Most recently, Frances Separovic has championed a successful applications for Australian Research Council (LIEF) infrastructure funding scheme to acquire the Dynamic Polarisation Nuclear Magnetic Resonance spectrometer (DNP-NMR) for Bio21's collection.
Professor Separovic is interested in membrane-active antimicrobial peptides, small proteins, for example, on frog skin that protect against infection. There are a number of peptides that span cell membranes and Frances Separovic is interested in these, particularly where they have some antimicrobial function.
"Deep down, I just want to know how things work. Once you know how something works, then you can fix it, or make it better," Frances explains.
----------
The awards program, initiated as part of the 2011 International Year of Chemistry celebrations, was created to acknowledge and promote the work of women chemists/chemical engineers worldwide. These 12 awardees have been selected based on excellence in basic or applied research, distinguished accomplishments in teaching or education, or demonstrated leadership or managerial excellence in the chemical sciences. The Awards Committee has been particularly interested in nominees with a history of leadership and/or community service during their careers.
An award ceremony will take place during the IUPAC World Chemistry Congress in São Paulo, Brazil, coinciding with the special symposium on Women in Chemistry and reception in honor of the recipients. See www.iupac2017.org for details.
Professor Vanderlan da S. Bolzani, co-chair of the special symposium, remarked: "We are especially pleased with this year's awardees and eager to recognize their contribution in a special session organized for the 2017 IUPAC Congress. Each year since 2011, the award has gained more attention in the community. During this year's Congress and with the help of IUPAC leadership, we plan to continue this trend. My hope is to make every day International Women's Day!".
The International Women's Day is a global day celebrating the social, economic, cultural and political achievements of women. The day also marks a call to action for accelerating gender parity.
About IUPAC:
IUPAC was formed in 1919 by chemists from industry and academia. Since then, the Union has succeeded in fostering worldwide communications in the chemical sciences and in uniting academic, industrial and public sector chemistry in a common language. IUPAC is recognized as the world authority on chemical nomenclature, terminology, standardized methods for measurement, atomic weights and many other critically evaluated data. In more recent years, IUPAC has been pro-active in establishing a wide range of conferences and projects designed to promote and stimulate modern developments in chemistry, and also to assist in aspects of chemical education and the public understanding of chemistry. More information about IUPAC and its activities is available at www.iupac.org.