Professor Frances Separovic honoured at UNSW Alumni Awards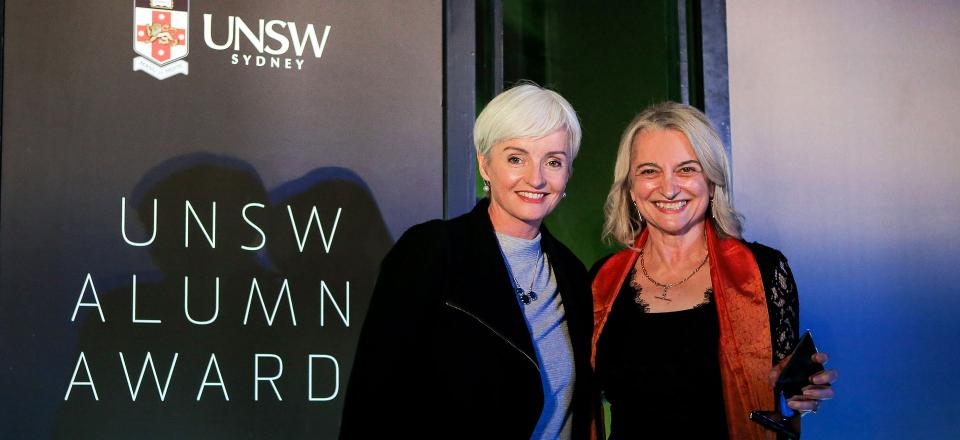 17 May 2017
On Tuesday night, Professor Separovic was presented with a 2017 UNSW Alumni Award, in the category of Science and Technology. The annual awards celebrate the achievements of UNSW's most accomplished graduates and graduands.
Professor Frances Separovic was one of ten winners, chosen from a pool of 290,000 alumni.
"It was a big thrill to be recognised and have my family present. Also, I felt humbled by the achievements of my fellow awardees," she said.
UNSW Vice-Chancellor Professor Ian Jacobs congratulated the recipients saying "choosing these winners from the extraordinary pool of talent spread across 146 countries and all facets of human endeavour is not an easy task."
Dr Separovic was awarded for her contribution to chemistry and the promotion of women in science. Having earned her PhD from UNSW as a single mother, Frances became the first female Professor of Chemistry at the University of Melbourne in 2005, and in 2010 became the first woman to head their School of Chemistry. For International Women's Day this year, she was recognised by the International Union of Pure and AppliedChemistry as a Distinguished Woman in Chemistry.
In 2017, Professor Separovic was appointed Deputy Director of the Bio21 Institute. 
Bio21 Director Michael Parkers says "At Bio21 we're very proud of Professor Separovic's achievements in chemistry and her efforts to mentor and support women in science. As Deputy Director, she will continue to focus her efforts to improve opportunities for women researchers at the Institute."
In winning the award, she received a trophy created by acclaimed sculptor Bert Flugelman in1972 and features a design reminiscent of Flugelman's subsequent 1978 creation, the Pyramid Tower which is located at Spring Street and Pitt in central Sydney.
Listen to the interview with Frances Separovic.
Transcript of Prof Frances Separovic's acceptance speech:
Chancellor, distinguished guests, alumni of University of New South Wales, family and friends,
I am deeply honoured to receive this award and humbled by the achievements of my fellow alumni and awardees.
My father died last week and I would like to say a few words about him. Dad did not have the benefit of a tertiary education. In fact, he only went to first grade and my mother to second grade primary school in Croatia. He came to Australia in the 50's to build a better life for his family. After two years, he saved enough for a deposit to bring out Mum, me and my sister. He worked hard physically as a miner in Broken Hill and did not want us to have such a life. Dad did not understand the meaning of a PhD but was so impressed that I taught teachers and doctors.
A PhD in Physics from the University of New South Wales opened up so many doors and opportunities for me and gave me a wonderful life. As a hard-working single mum, I would not have done this if I did not have access to a free education. I hope that we are able to ensure that disadvantaged students like I used to be will also be given such opportunities.
I thank the UNSW Alumni for this award and my family who have always supported me. (waving) It's wonderful to have you here tonight.
Zbogom Dedi I hvala. (holding trophy in air)