Professor Emeritus Frances Separovic receives Queen's birthday honour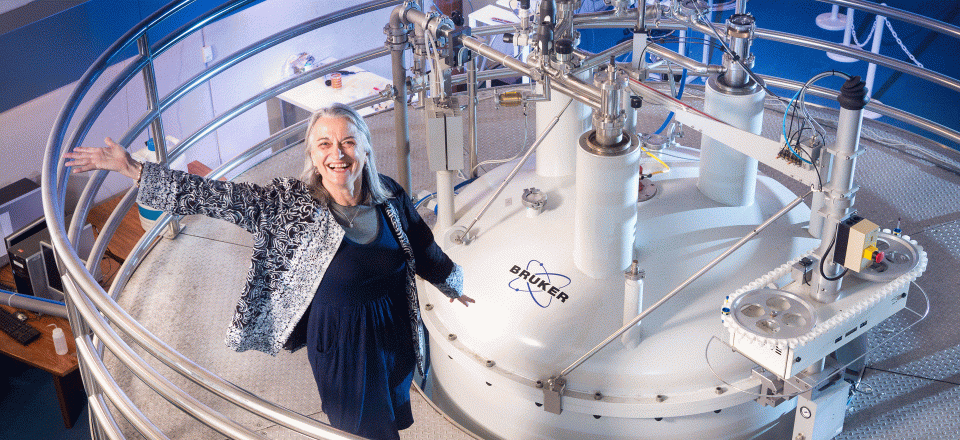 Bio21's Professor Emeritus Frances Separovic, Deputy Director of the Bio21 Institute has been honoured with the appointment as an Officer (AO) of the Order of Australia (General Division) announced in the Queen's Birthday 2019 Honours List on 10 June 2019.
Frances has been awarded an AO for her distinguished service to science education, particularly to biophysical chemistry, as an academic, and to young women scientists.
Frances was appointed as the first female Professor of Chemistry (2005) at the University of Melbourne and Head of the School of Chemistry from 2010 – 2016.
Frances has shown leadership in the field of biological magnetic resonance, which has previously been recognised by the ASB Robertson Medal for Biophysics in 2009, the Australia & New Zealand Society for Magnetic Resonance Medal in 2011 , and the International Union of Pure & Applied Chemistry Distinguished Woman of Chemistry/Chemical Engineering in 2017. In 2012 Frances was the first woman chemist to be elected a Fellow of the Australian Academy of Science. She was also elected a Fellow of the Biophysical Society, and an International Society for Magnetic Resonance Fellow. Frances Separovic was one of twenty outstanding Victorian women who were inducted into the 2018 Victorian Honour Roll of Women, recognising her as a trailblazer for women in science.
In recent years, Frances has become very active as an advocate for women in science, through speaking to many groups of young women to encourage them in their scientific careers by telling her own story and highlighting how she has overcome the challenges she's faced.
Just to name a few, during 2018 Frances spoke to the Women in Science Network at the Faculty of Science (WiSN), Balmain Public School, Girls in Physics Breakfast - Bendigo, Royal Australian Chemical Institute Annual Dinner, Australian and New Zealand Association for the Advancement of Science, Institute for Molecular Bioscience - Brisbane, Faculty of Veterinary & Agricultural Sciences - Melbourne and Adelaide Protein Group on 'my brilliant career'.
You can also follow Frances on social media channels Twitter, LinkedIn and Facebook, that she uses as a platform to share news about the opportunities and challenges for women in STEMM.
We are very proud to have Professor Emeritus Frances Separovic AO as our Deputy Director, at the Bio21 Institute, where she continues to support initiatives for women in science.