Bio21 ARC LIEF Grant Success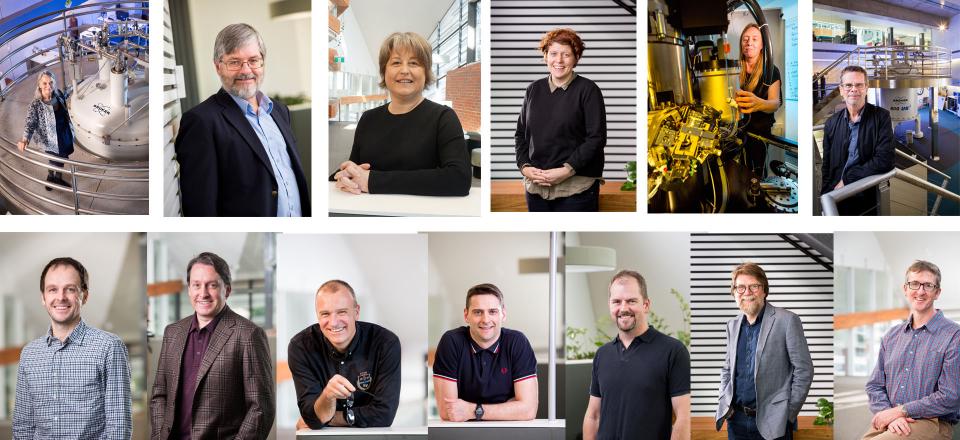 Bio21 teams have been successful with four University of Melbourne-led grants and one with the University of Wollongong.
Bio21 received a total of $2, 791, 874 directly to the Institute. 
The following Bio21 recipients and their teams have received LIEF grants:
Liz Hinde and Paul Gleeson

among others received a grant to establish a fluorescence lifetime imaging microscope that can track the intracellular journey of a proteins throughout the entire structural framework of a living cell.

Paul Gooley, Megan Maher and Mike Griffin

among others are on a grant new instrumentation, which does not currently exist in Australia, into the Melbourne Biomolecular Nuclear Magnetic Resonance (NMR) facility. This will introduce new capabilities to the Australian NMR community to characterise important biological molecular interactions at low concentrations.

Spencer Williams, together with Frances Separovic, Craig Hutton and Paul Donnelly

, among others received a grant to establish a multi-institutional nuclear magnetic resonance (NMR) platform across two of Victoria's leading research universities.

My own LIEF grant came through together with Isabelle Rouiller, Megan Maher and Nick Williamson, among others, to acquire a fully automated and integrated hydrogen-deuterium exchange system, a powerful tool for analysing the motion of proteins and their interactions with other molecules.
Bio21's Eric Hanssen and Isabelle Rouiller among others were on a grant with the University of Wollongong for a Gatan K3 high throughput camera system, that will allow them to visualise proteins and other subcellular components.
You can look up the results on the ARC website and below. Please let us know if we have missed your grant.
Professor Spencer Williams; Associate Professor Jason Dutton; Professor Frances Separovic; Dr Yuning Hong; Dr Peter Barnard; Associate Professor Colette Boskovic; Professor Craig Hutton; Professor Oliver Jones; Dr Belinda Abbott; Professor Paul Donnelly; Associate Professor Sylvia Urban

The proposal aims to establish a multi-institutional nuclear magnetic resonance (NMR) platform across two of Victoria's leading research universities. The platform will consist of two state-of-the-art NMR spectrometers equipped with parallel acquisition and variable temperature capabilities. It will renew obsolete equipment and support cutting-edge research in fundamental and applied chemical and materials science across the Victorian region. Expected outcomes include enhanced research capacity and productivity, supporting new interdisciplinary collaborations. Benefits will accrue across the spectrum of the chemical sciences and include environmental monitoring, drug development, process chemistry, and advanced materials manufacturing.

The University of Melbourne; $777,493

Dr Elizabeth Hinde; Professor Jose Polo; Professor Kieran Harvey; Professor Marnie Blewitt; Associate Professor Tamas Fischer; Professor Ruth Arkell; Dr Toby Bell; Professor Paul Gleeson; Professor Matthew Watt; Professor Steven Prawer; Dr Paul McMillan

This project aims to establish a fast fluorescence lifetime imaging microscope that can track the intracellular journey of a protein throughout the entire structural framework of a living cell. By coupling single particle tracking technology with a cutting-edge fluorescence lifetime camera, this one-of-a-kind microscope will enable protein mobility and interaction to be spatially mapped with unprecedented temporal resolution. The benefit of this technology is that it will enable scientists in Australia to image, for the first time, the biophysical mechanism by which a protein navigates intracellular architecture to regulate a complex biological function at the single molecule level.

 

The University of Melbourne; $289,381

Professor Paul Gooley; Professor Martin Scanlon; Professor Joel Mackay; Professor Oliver Jones; Professor David Komander; Associate Professor Christopher McDevitt; Associate Professor Sylvia Urban; Associate Professor Megan Maher; Associate Professor Michael Griffin; Associate Professor Matthew Call; Dr Natalie Borg; Dr Katie Leach; Dr Karen Gregory; Dr Jeffrey Babon

The project aims to integrate new instrumentation, which does not currently exist in Australia, into the Melbourne Biomolecular Nuclear Magnetic Resonance (NMR) facility. This will introduce new capabilities to the Australian NMR community to characterise important biological molecular interactions at low concentrations. This project expects to support existing areas of research strength with new approaches across interdisciplinary research programs in biochemistry, structural biology, medicinal and natural product chemistry. Expected outcomes from a range of research with a variety of partners will underpin new, potentially commercially valuable, applications across the chemical, pharmaceutical, agricultural or manufacturing industries.

 

The University of Melbourne; $1,000,000

Professor Michael Parker; Associate Professor Isabelle Rouiller; Associate Professor Megan Maher; Professor Patrick Sexton; Professor Paul Gooley; Associate Professor Nicholas Williamson; Dr Thomas Peat; Dr Thomas Nebl; Professor Ross Bathgate; Dr Daniel Garama; Professor Marc Kvansakul; Dr Christopher Langendorf; Associate Professor Peter Czabotar

Proteins are highly dynamic molecules that are essential to life. This project aims to acquire a fully automated and integrated hydrogen-deuterium exchange system, a powerful tool for analysing the motion of proteins and their interactions with other molecules. Expected outcomes include a new capability for biology labs around Australia by (1) increasing success rates of difficult projects that aim to visualise 3D protein structures and (2) providing rapid information about protein interaction sites. Anticipated benefits include the generation of dynamic data that will be highly complementary to static pictures of protein structures. This will enable clever design of new proteins with beneficial uses in the biotechnology industry.

The University of Melbourne; $725,000        
Professor Antoine van Oijen; Dr James Bouwer; Dr Gokhan Tolun; Professor Ricardo Cavicchioli; Dr Nicholas Ariotti; Professor Renae Ryan; Associate Professor Margaret Sunde; Associate Professor Eric Hanssen; Associate Professor Isabelle Rouiller; Dr Matthias Floetenmeyer

Visualising the structure of biological macromolecules such as proteins and other subcellular components is critical to understand the fundamentals of life. The integration of the Gatan K3 high-throughput camera system with one of the most advanced cryo-electron microscopy facilities in Australia and the Southern Hemisphere will transform the capacity of Australian researchers to study the world around us at the molecular detail needed to advance innovative research. The addition of this equipment to the University of Wollongong's research facility Molecular Horizons will result in a step change in the areas of bionanotechnology, advanced manufacturing, diagnostics, and many other areas at the interface of biology, chemistry and physics.

 

University of Wollongong; $626,800