NHMRC project grants awarded to Bio21 researchers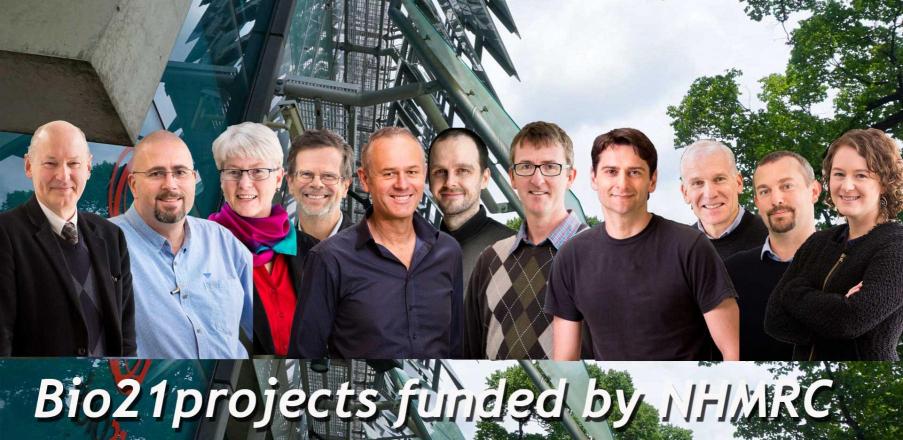 Dear Members of the Bio21 Community,

Congratulations to Bio21 researchers who have received NHMRC funding for their project grants announced 6 December.

Department of Biochemistry and Molecular Biology:

Dr Mike Griffin

Development of an Interleukin-11 Signalling Antagonist

Professor Leann Tilley, Dr Stuart Ralph

Molecular basis of artemisinin action and resistance in Plasmodium falciparum

Professor Malcolm McConville

Targeting phosphoinositide metabolism in Leishmania

Dr Paul Gooley, Dr Mike Griffin

Resolving and targeting the complex molecular mechanisms underlying GPCR signalling

Dr Paul Gooley

Molecular determinants of drug binding and selectivity at muscarinic acetylcholine receptors

Dr Neil O'Brien-Simpson and Prof Eric Reynolds

Star polymers as novel antimicrobial and immunomodulatory agents
Professor Ian van Driel

Interferon mediated control of Legionella infection

And in the School of Chemistry:

Prof Paul Donnelly with researchers from Monash and La Trobe Universities and Austin Health

Alpha Particle Therapy of Solid Tumours

Profs Gavin Reid and Frances Separovic with researchers from Monash University

Mechanism of Bacterial Resistance to Antimicrobial Peptides

Prof Spencer Williams with researchers from Immunology (University of Melbourne) and Monash University

Characterisation and Development of Type-2 NKT cells

Other NHMRC Development grants that were announced in earlier rounds can be found on the Bio21 website.

Congratulations also to Professor Suzanne Garland, Royal Women's Hospital Infectious Diseases Research Group, at the Bio21 Institute, who has been funded for a Centre of Research Excellence:

An integrated approach to cervical cancer prevention: Optimising HPV vaccination and cervical screening.

It is encouraging to see members of our community securing funding to pursue their important work, despite the tight and competitive funding conditions.

As a community of researchers, let us support each other, teaming up and collaborating, within and across disciplines, to find new angles and insights into our research questions and so improve our chances of securing funding.