Media Release: New BioMedical Research Facility Secures Victoria's Place as World Class Research Destination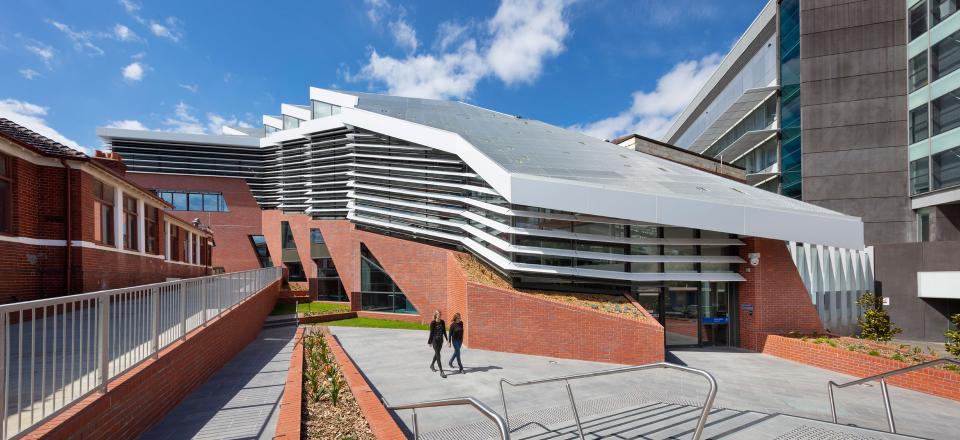 14 December 2018
The Honourable John Brumby AO today formally opened the new 'Nancy Millis' building, an expansion of the Bio21 Institute of Molecular Science and Biotechnology, University of Melbourne, incorporating CSL's Global Hub for Research and Translational Medicine.
"This is an important industry-university partnership that will enable greater knowledge and technology transfer, drive innovation and ensure Australian research is translated into positive health outcomes around the world," said Mr Brumby.
The state-of-the-art, $46million research facility expands the footprint of the Bio21 Institute by 5000 square metres and will house the University of Melbourne's Margaret Sheil Mass Spectrometry laboratories, CSL's Global Hub for Research and Translational Medicine and shared meeting spaces.
The Bio21 Institute is one of the University's flagship research institutes, and for more than a decade has played an important role in positioning Victoria and Australia as a leading destination for life sciences and biotechnology research. 
CSL is the largest investor in biomedical Research and Development in Australia. In FY2017-18, the company invested more than US$702 million (~A$900 million) globally in R&D, backed by an R&D workforce of approximately 1700 people worldwide. With the opening of the new facility, CSL expects to more than double the presence of its research scientists at Bio21, from 75 to around 150. 
"Universities, government and industry are crucial partners in building and enhancing Australia's innovation ecosystems. This collaboration within a shared facility is a great example of the kind of partnerships we want to encourage," said Mr Brumby.
The building will enable the expansion of major technology platforms that underpin personalised medicine and the development of new diagnostics.
"Bio21 is delivering a world-class research facility for Australia that will play an important part in advancing biomedical research knowledge and the development of new therapies," said University of Melbourne Vice Chancellor, Duncan Maskell.
"It provides a concentration of key infrastructure for researchers from the University and from neighbouring organisations, including medical research institutes and hospitals within the Melbourne Biomedical Precinct.
"The new facility will help researchers to develop diagnostics and treatments for cancer, infectious, metabolic, autoimmune, neurodegenerative and other diseases.
"The co-location of a large multi-national company with the University is a fundamental aspect to the facility's success and will generate an environment in which other start-ups and small businesses can thrive," said Professor Duncan Maskell.
Mr Paul Perreault, CEO and Managing Director, CSL Limited said, "Our investment in an expanded research presence is informed by our commitment to deliver on our promise to patients. We know from experience that the cross-cultivation of ideas from academia to industry helps translate science into life-saving medicines that improve the quality of life for people with rare and serious diseases."
"CSL is working to maintain a strong pipeline of prospective products in various stages of development. Our collaborations with the medical research community in Australia are critical to this success. We envisage an increased presence at Bio21 will facilitate collaborations with research institutes and hospitals and provide an expanded base for new national and international partnerships," said Mr Perreault.
The building is named in honour of Professor Emeritus Nancy Millis AC, who was one of the first women to be appointed a professor at the University of Melbourne. Prof. Millis introduced fermentation technologies to Australia and created the first applied microbiology course taught in an Australian university. The Bio21 Institute has dedicated its laboratories to Professor Margaret Sheil AO - an Australian academic and Vice Chancellor of Queensland University of Technology.
CSL Media Contact
Christina Hickie, Phone: +61 9389 3425/ 0429 609 762
Christina.hickie [at] csl.com.au
University of Melbourne Media Contact
Damian Glass, Phone: +61 459 818 553
damian.glass [at] unimelb.edu.au
About BIO21 Bio21 is one of Australia's largest molecular science and biotechnology research institutes, accommodating more than 700 University researchers across the chemical, biochemical, biomedical and bioengineering sciences. World leading research in the institute is supported by sophisticated analytical research infrastructure platforms funded from Federal/NCRIS, State and University sources. Located within the Melbourne Biomedical Precinct, Bio21 demonstrates the power of bringing together researchers, established industry and start-up companies to address global problems. 
About the University of Melbourne 
Established in 1853, the University of Melbourne is a public-spirited institution that makes distinctive contributions to society in research, learning and teaching and engagement. It's consistently ranked among the leading universities in the world, with international rankings of world universities placing it as number 1 in Australia and number 32 in the world (Times Higher Education World University Rankings 2017-2018). 
About CSL CSL (ASX:CSL) is a leading global biotechnology company with a dynamic portfolio of life-saving medicines, including those that treat haemophilia and immune deficiencies, as well as vaccines to prevent influenza. Since our start in 1916, we have been driven by our promise to save lives using the latest technologies. Today, CSL — including our two businesses, CSL Behring and Seqirus -  provides life-saving products to more than 60 countries and employs 22,000 people. Our unique combination of commercial strength, R&D focus and operational excellence enables us to identify, develop and deliver innovations so our patients can live life to the fullest. For more information about CSL Limited, visit www.csl.com
About Prof. Nancy Millis:
Nancy Millis introduced the teaching of Industrial Microbiology into Australia and by her research and involvement with various organisations promoted a continuing analysis of water utilization and the environment.
Nancy joined the University of Melbourne in 1952 when she was appointed as a Senior Demonstrator in the then Department of Microbiology. In 1953 she was appointed as lecturer. Early in her career Nancy set up the first Applied Microbiology course in Australia and in 1982 was appointed as a Professor in the Department of Microbiology and Immunology – one of the University's first female Professorial appointments.  
Throughout her career, Nancy served many roles in academia and industry including, Chairperson for the Cooperative Research Centre for Water Quality and Treatment; a board member of the CRC for Freshwater Ecology; and committee member of Australian Water Advisory Resources Committee. Nancy was also Chancellor of La Trobe University from 1992, a position she held until her retirement in 2006. Nancy was widely regarded as a national treasure and was one of five Australian scientists to be featured on postage stamps.
About Prof. Margaret Sheil AO:
Professor Margaret Sheil AO was appointed as Vice-Chancellor and President of QUT from 12 February 2018.  She was previously Provost at The University of Melbourne since 2012.
Professor Sheil has been an academic in chemistry and held senior roles at the University of Wollongong. She is a Fellow of the Royal Australian Chemical Institute (RACI), the Academy of Technological Sciences and Engineering (ATSE), and was made an inaugural Fellow of the Australian and New Zealand Society for Mass Spectrometry (ANZSM). Professor Sheil is a Director of the Australian Nuclear Science and Technology Organisation (ANSTO) and a member of the Advisory Council of the CSIRO Science Industry Endowment Fund (SIEF).   
In June 2017 Professor Sheil was made an Officer of the Order of Australia (AO) for her distinguished service to science and higher education as an academic and administrator, through significant contributions to the national research landscape, and to performance standards.