Image of the Month: Ghana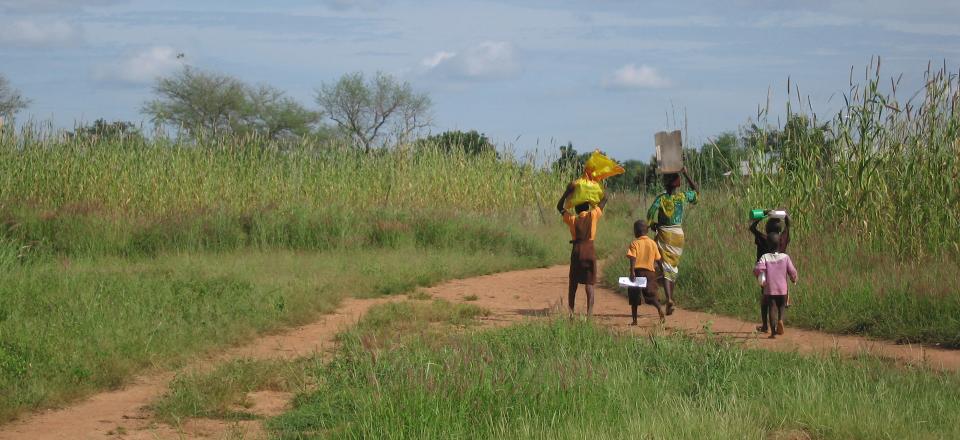 Image: Residents of a community in the Upper East Region Ghana, where a five-year NIH/FIC funded cohort study is being conducted to determine the impacts of seasonality and malaria control programs on chronic Plasmodium falciparum infections.
Photographer: Kathryn Tiedje
Dr. Kathryn Tiedje, a Research Fellow in Prof. Karen Day's research team, heads to the Upper East Region of Ghana in a week's time to assist with coordinating field research activities with collaborators at the Navrongo Health Research Centre (Ghana), Noguchi Memorial Institute for Medical Research (Ghana) and the University of Chicago (USA). She will be there until the end of October assisting with coordinating the current (end of wet season) malaria reservoir survey data collection. This is part of the Day Group's longitudinal cohort project Funded by the National Institutes of Health and the Fogarty International Centre in the USA, their investigation aims to eliminate Plasmodium falciparum, a parasite that causes over half a million deaths annually, with the majority of this burden in Sub- Saharan Africa. 
The grant supports a multidisciplinary team including malaria geneticists, bioinformaticians, mathematical biologists, clinical/molecular epidemiologists and entomologists. They are interested in better understand the complexities of malaria transmission in the context of the parasite's genetic diversity in chronic carriers of infection. These chronic carriers constitute the reservoir of infection that continually fuels the spread of malaria to mosquitoes making it difficult to interrupt transmission and eliminate malaria. The project uses a longitudinal cohort study design to determine the impacts of seasonality and malaria control programs on P. falciparum genetic diversity. With this study design, their goal is to create a conceptual shift in malaria control practices, as current public health strategies do not take parasite diversity into consideration when they are monitored and evaluated.