Congratulations to Bio21's ANZSMS Medallists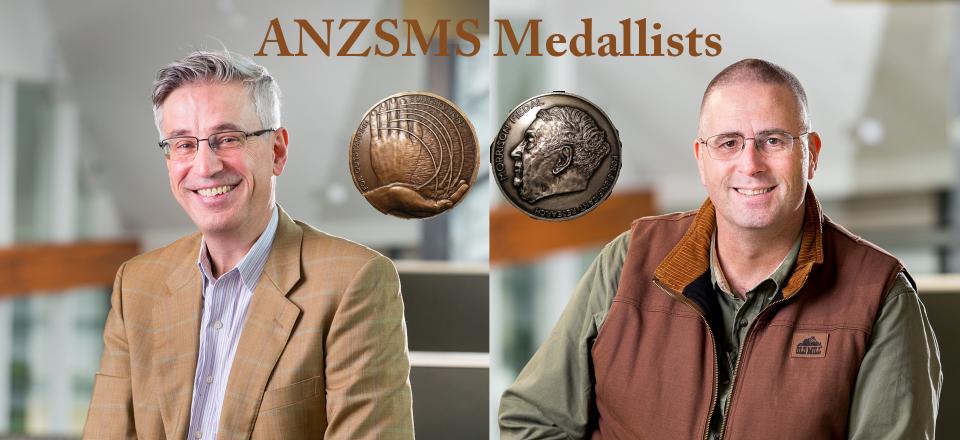 Professor Richard O'Hair is the recipient of the 2021 ANZSMS Medal from the Australian and New Zealand Society for Mass Spectrometry; its highest award, announced on the 12 July.  
Stated on the website, "the ANZSMS medal honours individuals deserving special recognition by reason of their outstanding contributions to knowledge in the biological, chemical, engineering, mathematical, medical, or physical sciences relating directly to the exploitation, application or development of mass spectrometry."
Richard O'Hair is the current Head of the School Chemistry and is a group leader located on Bio21's 5th floor. He was a foundation CI of Bio21 and much of the medal work was carried out at Bio21.
Richard is only the fourth person to be honoured with the ANZSMS medal, which is awarded no more than once every two years. 
Also, Professor Gavin Reid has been recognised with the ANZSMS Morrison Medal and he noted: 
"Also, it'll be particularly memorable to be awarded this medal in the same year that my PhD supervisor and current Head of School, Prof. Richard O'Hair has been awarded our societies highest honour, the ANZSMS medal".
The ANZSMS website states that: "The Morrison Medal honours the contributions of Professor Jim Morrison to the development of mass spectrometry in Australia. It is awarded in recognition of significant achievements in an area of mass spectrometry. Consideration will be given to scientists with an international reputation and who have had an association in some way with Jim Morrison."
Gavin says: "I'll look forward to receiving the medal and giving the award lecture at the 26th biennial ANZSMS conference, to be held in Canberra from November 21-25th, 2021.
It's been a great pleasure to have been a member of the society for almost 25 years, and a privilege to be elected to serve in various leadership roles. I consider many of the members to be close friends rather than colleagues. 
Richard O'Hair was also a recipient of the Morrison medal in 2007. Other familiar faces amongst the ANZSMS Morrison medallists include Evan Bieske (2011), and Margaret Sheil (2003), namesake for the Margaret Sheil Mass Spectrometry Laboratories on Level 1 of the Nancy Millis Building at Bio21. 
The formal award ceremony will hopefully take place in person at the ANZSMS28 conference later this year. https://anzsms.org/awards/