Lloyd Hollenberg inducted into the Australian Academy of Sciences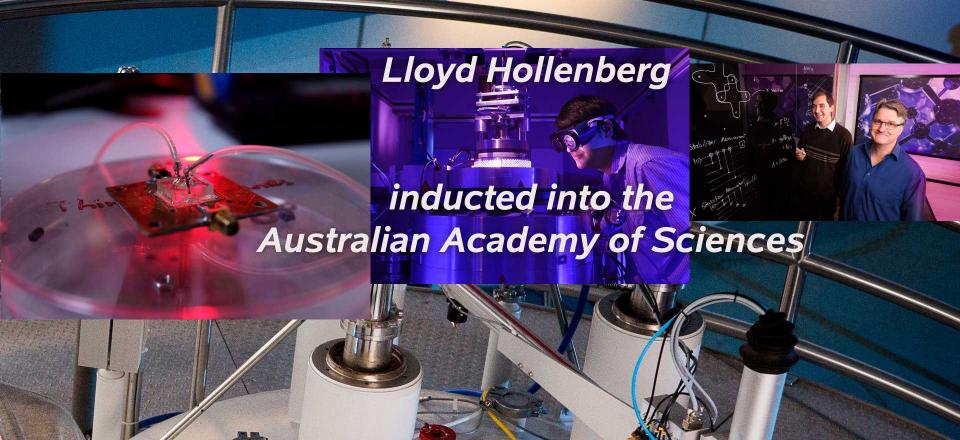 22 May 2018
Professor Lloyd Hollenberg has been inducted into the Australian Academy of Sciences as a Fellow.
Lloyd is a member of the Bio21 Institute who collaborates across research and teaching with members of the Institute, including Frances Separovic, Deputy Director of Bio21 Institute. Also, Paul Gooley, Isabelle Rouiller and Frances Separovic and Terry Mulhearn are all working together with Lloyd Hollenberg to develop a MSc subject on structural biology that covers cryo-EM, X-ray crystallography and NMR, that will be jointly taught by Bio21 staff.
As a result of a successful LIEF grant, Bio21 will be receiving an X-ray generator to be housed in the X-ray crystallography laboratory that will be set up in the Bio21 basement mid-year. The MSc course that Lloyd is developing with other Bio21 staff will help train the next generation of structural biologists to take advantage of the new X-ray lab and other Bio21 platforms.
Professor Hollenberg has a sustained record of achievements in quantum information science. He has created the physical-quantum information basis for a full-scale silicon quantum computer, drawing on his deep understanding of the physics involved.
Lloyd has achieved major theoretical and experimental advances in the use of nitrogen-vacancy centres in diamond as quantum sensors in physical and biological applications.
Add to this his leadership role of the Centre for Quantum Computation and Communications Technology, mentorship of many students and post-doctoral fellows, service to the discipline, and enthusiastic promotion of Physics to the public.            
He holds the Thomas Baker Chair, Australian Research Council Laureate Fellow, University of Melbourne.
We are proud to see a member of the Bio21 Institute inducted into this most prestigious Australian scientific institution.
Watch the video here: 
Visit the official site of the Australian Academy of Sciences.