Industrial Transformation Training Centre for Cryo-electron Microscopy of Membrane Proteins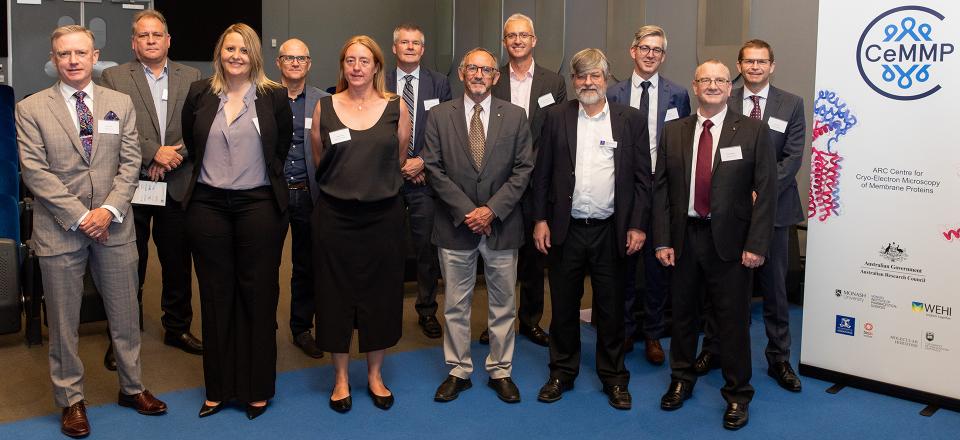 The Australian Research Council's Industrial Transformation Training Centre for Cryo-electron Microscopy of Membrane Proteins ("CCeMMP") has been launched at the Bio21 Molecular Science and Biotechnology Institute..
CCeMMP is an initiative led by Monash University, together with principal partners the University of Melbourne, University of Wollongong, WEHI.
CCeMMP aims to expand Australia's biotechnological capability, train a highly skilled cryo-electron microscopy ("cryo-EM") workforce and build strong linkages with the drug discovery and development industries.
Cryo-EM is a specialised form of electron microscopy that captures 2D images of 100s, 1,000s or even 1,000,000s of protein particles in native condition, and calculate 3-dimensional a high-resolution density map of the proteins. Researchers use this map to determine the atomic structure of the protein. The information enables them to design new and better medicines, more rapidly and cheaply than would otherwise be possible.
"This Centre brings together the incredible array of Cryo-EM talent that exists across Australia and harnesses it to develop the next generation of industry-ready researchers and entrepreneurs" said University of Melbourne Associate Professor Isabelle Rouiller, Deputy Director, CCeMMP.
"The ability to work with key industry stakeholders in the Centre ensures that our graduates are industry ready and that our research can be rapidly translated to advance the discovery of new medicines," said Monash University Professor Patrick Sexton, Director, CCeMMP.
The Centre has already forged relationships with 11 leading industry partners including Pfizer, AstraZeneca, Boehringer Ingelheim and Thermo Fisher Scientific.
"The University of Melbourne has made a major investment in Cryo-EM with the recent construction of the Ruth Bishop building to house its, and precinct partners', microscopes in the Ian Holmes Imaging Centre," said University of Melbourne Professor Michael Parker, Director of Bio21.
"Our partners, including WEHI, MIPS and CSL, have made significant contributions to the purchase of our cutting edge instruments. CCeMMP will capitalise on these investments to make cutting edge discoveries in health leading to translational outcomes," he said.
"Melbourne is a global leader in biomedical research. By developing a workforce that is highly skilled in a transformative technology, the centre will help maintain that leadership position. It will provide a capability to unlock new treatments for a wide range of diseases," said Professor Chris Porter, Director, Monash Institute of Pharmaceutical Sciences.