Hope for the future: biodiversity symposium tackles climate change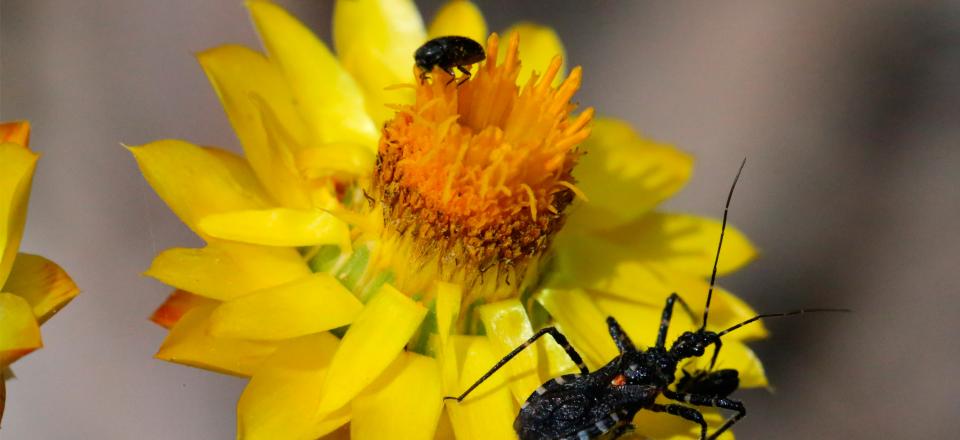 Hope for the future: biodiversity symposium tackles climate change
Managing Victoria's Biodiversity under Climate Change: 8-9 October, 2015 @ Bio21
​Image by Phillip Ingamells, Victorian National Parks Association
"Australia has one of the worst records of preserving biodiversity," stated Dr Phil Birch, President of the Royal Society of Victoria, in his opening address of the Managing Victoria's Biodiversity under Climate Change symposium held at the Bio21 Institute on the 8th and 9th of October.
A wide range of specialists, including many from the University of Melbourne's Faculty of Science , covered topics related to biodiversity, with emphasis placed on what Victorian ecosystems will be like in 2050 as a result of climate change. Key topics of discussion included the threats to Victoria's mountain, woodland, coastal, and mallee ecosystems, the challenges of engaging various interest groups, setting realistic priorities and addressing human impacts on ecosystems.
Dr Penny Whetton, Honorary Research Fellow with CSIRO's Oceans and Atmosphere research institute – and lead author of sections of the Third Assessment Report of the IPCC – was first to reaffirm the widespread impacts of climate change.
"By 2050, which is the focus of this meeting, a cool year is certainly hotter than the hottest years now," she said. Dr Whetton outlined the climatic trends associated with the expected 1.2–2.5oC temperature increase; including increased daily temperatures, decreased precipitation and greater frequency of extreme events such as heatwaves.
A warmer, dryer climate will exacerbate existing stresses on natural ecosystems. More frequent bushfires are one of many processes that are likely to have greater impacts on biodiversity in the future.
Dr Chris Taylor, a researcher from the Department of Veterinary and Agricultural Science, noted that projected changes and temperature increases are important topics, but that scientists and the wider community must also look at the way that human disturbance and natural disturbance compound the impacts of climate change. In particular, he highlighted the challenges of fire in woodland ecosystems.
Developments in addressing climate change and its impacts on biodiversity have been limited. Professor Ary Hoffmann, group leader at Bio21, expressed his frustration at the slow progress being made and the continuing willingness to extend the safe or maximum levels of warming in relation to biological systems.
Back in 1988, "we decided that maybe we can get away with a one degree maximum," Professor Hoffmann said. "Now we talk about two degrees being a safe limit. We will probably soon start talking about three degrees being a safe limit."
Amid the dire warnings, hopeful messages also emerged; some systems are demonstrating levels of internal resilience. Ecological change is now unavoidable in these landscapes, and is not necessarily a process that can be avoided.
"We need to get away from protecting nature, to allowing nature to adapt," summarised Professor Hoffmann, "and that's obviously a critical point in thinking about the whole area of climate change."
There was extensive debate about the need to move beyond just measuring changes and developing more considered and innovative actions. Solutions to this complex problem require more than just the science, or even the logistics, involved in prioritising and appropriating resources.
Associate Professor Kathryn Williams from Melbourne University expressed her concern that action around biodiversity will not happen unless there is more successful engagement with Victorian people. Many people have limited understanding and investment in terms such as biodiversity and ecosystems. One suggestion was to promote key ecosystems around the state as 'special places', and highlighting the range of things people value about ecosystems, including experiences of peace and challenge.
Cities were the focus for Associate Professor Sarah Bekessy from RMIT University. She believes that climate change is an opportunity for people to re-envisage living within biodiverse ecosystems through urban design; a relatively new consideration for local councils in combating the devastating heat island effect, where infrastructure in highly-modified landscapes traps excessive amounts of heat and radiates into surrounding areas. Within these trendy 'greener' design concepts, Associate Professor Bekessy thinks there is room for addressing key biodiversity issues as well.
The symposium was the outcome of a collaboration between the Royal Society of Victoria, the National Parks Association and Melbourne University, with sponsorship from the Department of Environment, Land, Water and Planning and Parks Victoria. The proceedings will be compiled into a report by ecology journalist, Dr Ian Lunt from Charles Sturt University.
Professor Karen Day, Dean of Science at the University of Melbourne, was delighted to see such a diverse range of interested stakeholders together, with a number of representatives from relevant organisations, government agencies and universities from around the country attending.
"You're addressing a complex problem and you certainly need everybody on board to try and find solutions," she said.
Story by Esther Lloyd
Go to the Vic Nature 2050 website for more information about the symposium and the organisers