The Governor of Victoria visits the Bio21 Institute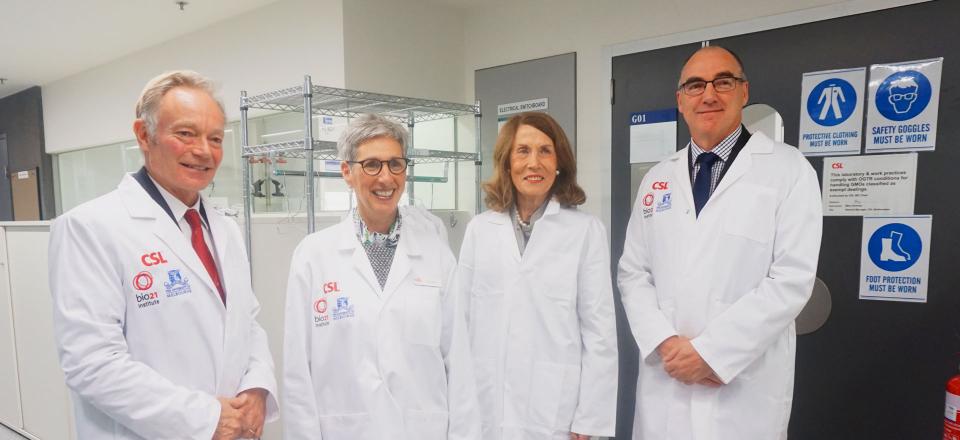 6 April 2016
The Governor of Victoria, Her Excellency the Honourable Linda Dessau AM toured Melbourne's Parkville Precinct on April 6, 2016 with particular interest in viewing key biomedical and biotechnology research institutes. The first stop on her tour was the University of Melbourne's Bio21 Institute of Molecular Science and Biotechnology on Flemington Road.
The visit was hosted by the Chancellor, Elizabeth Alexander AM and the Deputy Vice Chancellor Research, Professor Jim McCluskey, and the Governor was given a tour of the Institute by one of the Bio21 Institutes Associate Directors, ARC Laureate Fellow, Professor Leann Tilley and Professor Frances Separovic former Head of the School of Chemistry.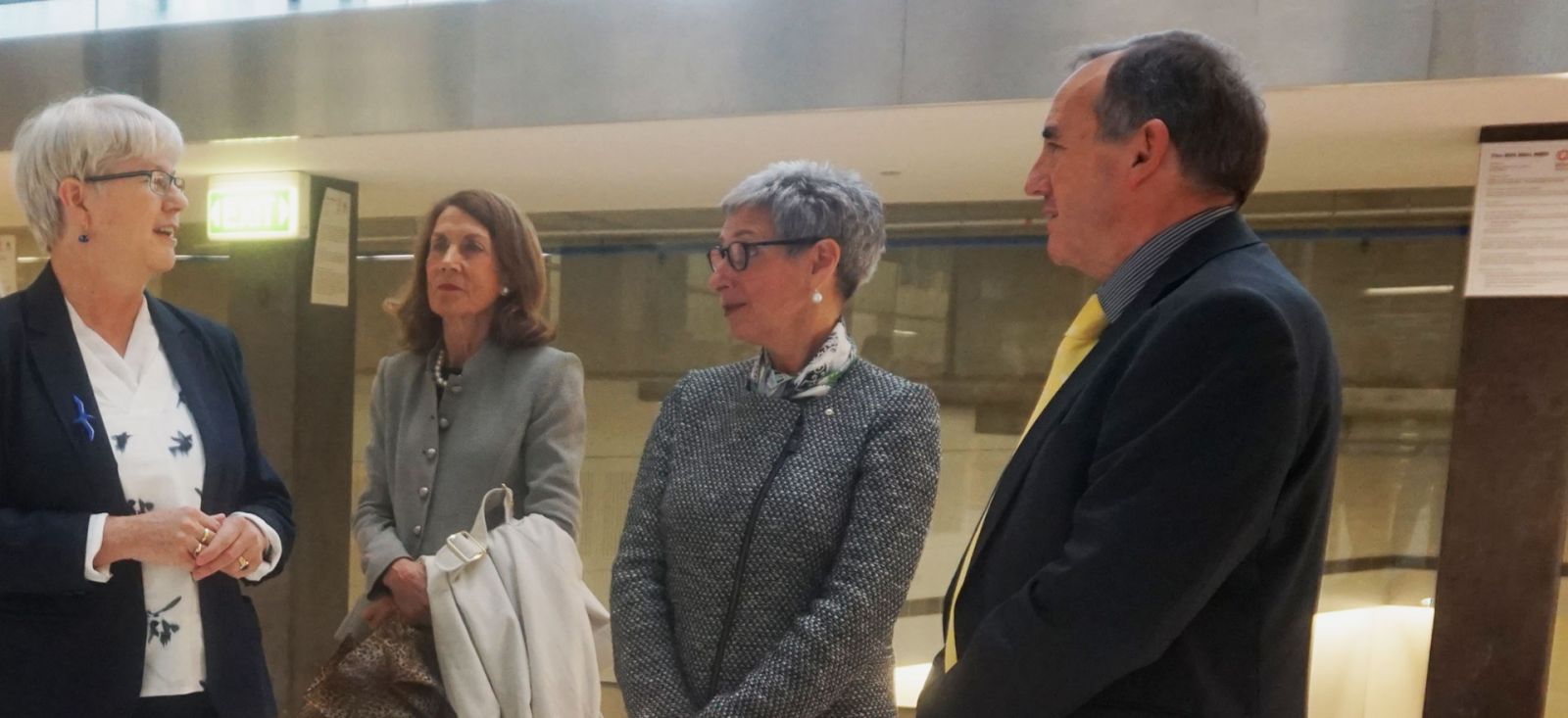 Professor Leann Tilley, Chancellor Elizabeth Alexander AM, The Governor of Victoria, The Honourable Linda Dessau and the Deputy Vice Chancellor Research, Professor Jim McCluskey.
Professor Tilley highlighted the role of the Institute in providing a dynamic multi-disciplinary research environment, access to high-end platform technology facilities and collaborations with key industry partners providing a pathway from basic research to translation and commercialisation.
Starting in the atrium at the window looking down into the Magnetic Resonance Facility, Professor Separovic spoke about the importance of the facility to the researchers within the building and the precinct in their endeavours to understand diseases such as Alzheimer's as well as in drug design. The Magnetic Resonance Facility is the one of the largest in Australia, housing 10 magnetic resonance spectrometers.
As the group walked across the atrium, they were greeted by Dr Andrew Cuthbertson, CSL Chief Scientific Officer and R&D Director and Dr Andrew Nash, Senior Vice President, Research. CSL Ltd is an anchor tenant of the Bio21 Institute and in a successful academia-industry partnership, is embarking with the University of Melbourne, on a $36.4 million, 5000 sq metre expansion of the Bio21 Institute to house its global research hub. The delegation toured CSL's ground floor laboratories.
The Governor's tour of the precinct continued on to the neighbouring Walter and Eliza Hall Institute and then the adjacent Florey Institute of Neurosciences on Royal Parade.
By Florienne Loder