Director's Blog - 11 June 2019 - A Visionary Veterinary Research Institute and beyond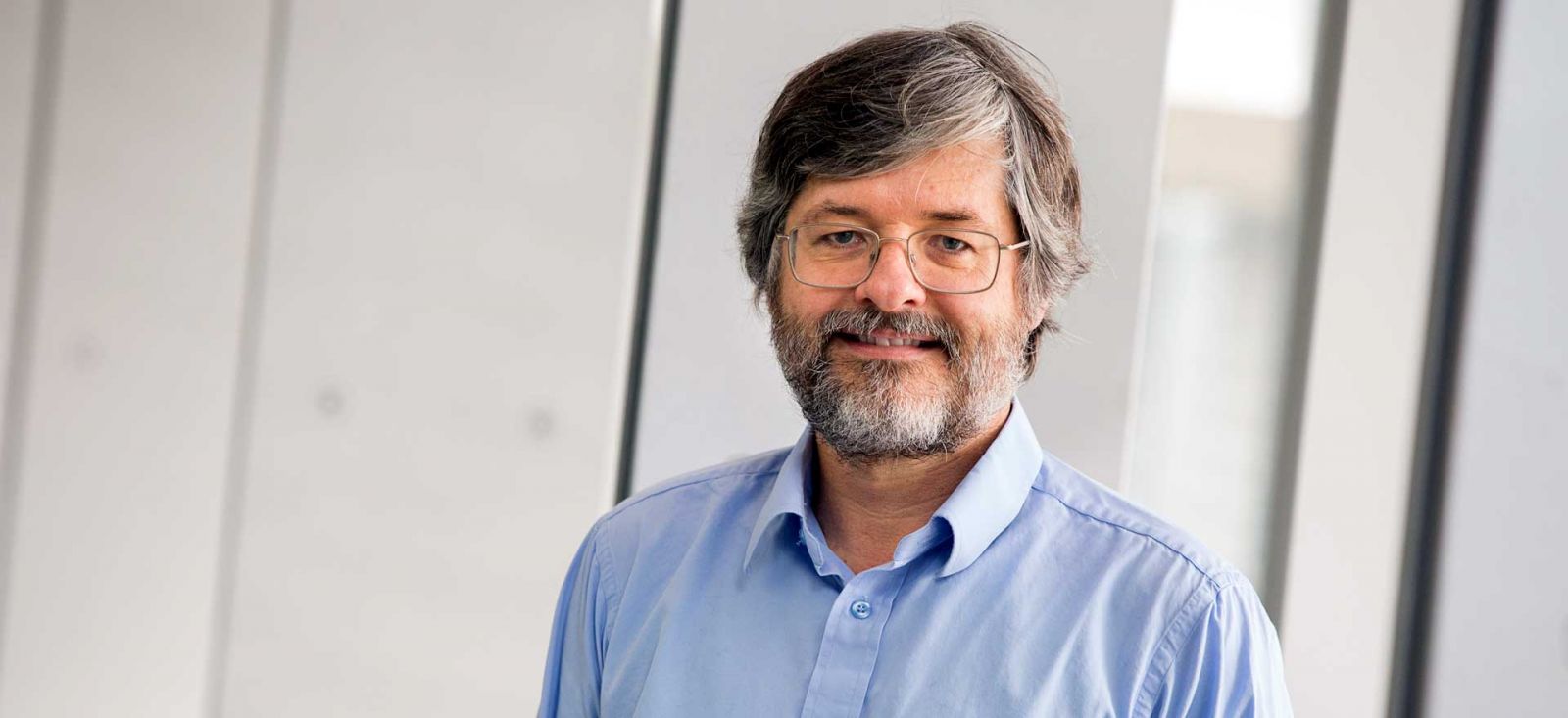 If you go to the second floor of the Nancy Millis building common area, you get a good view of the demolition of the 1950 additions of the old Veterinary Research Institute. The sight can evoke a mix of emotions; perhaps sadness,  that what has stood for many years, can, in a matter of weeks be reduced to a pile of rubble and bricks. Perhaps excitement and anticipation at what will arise from the rubble. But maybe also a little curiosity at what kind of place it had been and about the people that had built, worked, taught and researched there?
| | |
| --- | --- |
| | |
| | |
Before the demolition commenced, I took the chance to walk through the old building one more time and to take some photos, which you can see here. The rooms, now empty can only hint of bygone times and uses, of an animal hospital, communal areas, a museum, lecture theatre and research laboratories:
"The Former Veterinary Research Institute Building ... contained a pathology and bacterial department, an anatomy department, museum, lecture theatre and animal pens all built around a courtyard."
"The hospital block was also built around a courtyard and contained a lecture room, pharmacy, saddle room, a forge, and animal pens and kennels."
"The surgical department was dominated by an operating theatre. By 1916, student numbers had declined and in 1928 courses were suspended and did not begin again until 1964."
"Research work continued during this period and although the extent of work is unclear research was completed in relation to infectious necrotic hepatitis, Newcastle Disease, milk testing, and agglutination tests regarding chicken eggs."
The façade, which will be retained, is an example of the decorative 'Queen Anne' style of the day, in 1909, when the building was constructed. Upgrades and additions starting in the late 1950s, added among other things, a so-called 'disco room' adorned with globe lighting hanging from the ceilings and mirrored walls, reflecting a radically different time and vibe.
"In 1959, in preparation of the re-opening of the veterinary course, significant alterations and additions to the building were designed by architect H Garnet Alsop." And now, once again, the need for a place to house electron microscopes, calls for something completely different.
But how did the Veterinary Research Institute come to be here in the first place? The history of buildings tells of people with vision, foresight and energy to meet the changing needs of institutions and society. In this case, with only four trained veterinary surgeons in Melbourne in the 1880s, more vets needed to be trained to serve the colony. Also, facilities and expertise were needed to inspect and test livestock to protect public health, as well as to research and treat animal diseases, particularly those of horses. [Source]
There were two pioneering individuals who established the first Veterinary College, Hospital and Research Institute in Melbourne. One was Graham Mitchell, a Scottish vet trained in Edinburgh [Mitchell had graduated with the Certificate of the Highland and Agriculture Society in April 1854 for his veterinary training at the Edinburgh Veterinary College] and India, who came to pursue a private practice in Melbourne. [Source]
The second person was William Tyson Kendall, an English vet [born and educated in England and graduated from the Royal College of Veterinary Surgeons, London, in 1873] practicing at Ambleside in the Lakes District in England, who had read of Mitchell's account in an article published in the Veterinary Journal(1877;4:40) of his unsuccessful efforts to obtain financial assistance, with the support of the National Agricultural Society, from the Government of Victoria to establish a veterinary school (1873–1875).
Upon reading this, William Tyson Kendall, casually remarked to his wife Elizabeth, 'What about going to Melbourne to help Graham Mitchell to establish a College?' [Source]
Kendall arrived in Melbourne in 1880. It appears that Kendall established the Veterinary training institute using his own personal funds:
"Subsequently, after failing to convince the Melbourne City Council and State government to found a publicly funded veterinary training institute, he decided to establish one himself at great personal expense."
And so the first Veterinary College in Australia - A Veterinary Hospital (treating mainly horses) - was constructed in Melbourne, in 1886 on Brunswick Street, Fitzroy:
"The Former Melbourne Veterinary College, 38-40 Brunswick Street, Fitzroy is a two-storey brick building constructed in 1886 as an animal hospital and veterinary college by WT Kendall, who is known as the founder of veterinary science in Australia. The animal hospital operated from 1886 to 1928. The college, the first in Australia, operated from 1888 to 1909 when it was taken over by the University of Melbourne and moved to a site in Parkville. Signage on the facade of the building reads: "Hospital for Horses, Dogs, etc." and 'Melbourne Veterinary College". A plaster horse head is placed over the entrance."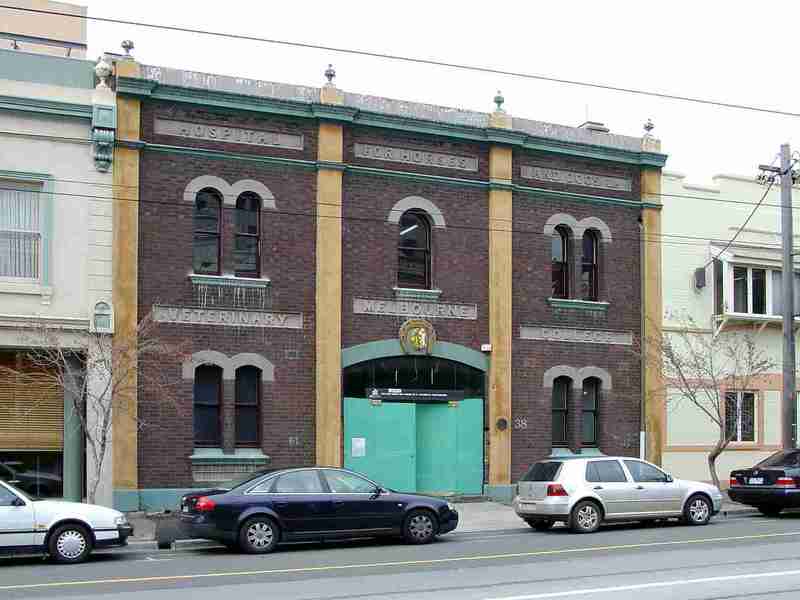 38-40 Brunswick Street, FITZROY, City of Yarra
[https://vhd.heritagecouncil.vic.gov.au/places/4585/download-report]
Only later was it to move to Parkville:
"In 1906, a committee appointed by the Minister of Agriculture recommended the establishment of a veterinary school at the University of Melbourne to be governed by a faculty on which both the Department of Agriculture and the University were equally represented. ...
The building, which was designed by Samuel Brittingham of the Public Works Department were opened in 1909, but students did not commence classes in the new building until 1910.
"Kendall remained in the forefront of veterinary science in the State. He became President of the Veterinary Board of Victoria and held the position from 1897 to 1906 and 1912 to 1924..."
Continuing the research tradition of the site, 'Stage 2C' is also driven by a larger vision to equip the Bio21 Institute and broader biomedical precinct community with the most cutting edge platform technology facilities in order to remain at the forefront of molecular science research and to provide services to the scientific community in Melbourne, Australia and beyond.
Cryo-electron microscopes are powerful tools allowing scientists to investigate the world of the cells and their contents at atomic resolution, providing the opportunity to learn more about how proteins function in cells in health and disease, that will drive discoveries into the future.
It is the vision and teamwork between Eric Hanssen, Malcolm McConville and myself, the architects, planners and project managers at the University that is transforming this vision before our eyes.
Professor Michael Parker
Director, Bio21 Institute