Bio21 Director's Message - 12 May 2020 - The challenge of STEM education during the COVID-19 pandemic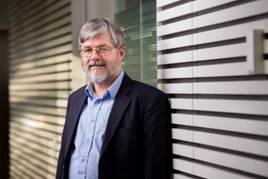 The warning 'Don't try this at home' has become partly obsolete in the Covid-19 era, as we are all doing our best to work and to make it work from home. Some things like writing grant applications and papers, reading and reviewing or consuming coffee can be done from home. Experiments and field work not so much. Meetings, events and conferences, possibly? Lectures and pracs, STEM education and school engagement – it's a challenge! 
However, there has been a monumental effort by teaching academics to move all their teaching online for this term and possibly the next. We are seeing the University and also external organisations taking the initiative to create online resources, or to create online events and webinars that we can participate in remotely.
It is wonderful to see how quickly our Department of Biochemistry and Molecular Biology has moved its seminar series online. Also, there are a number of other events on offer by Precinct Partners, such as the VCCC Monday Lunch Live seminars, being live streamed, as well as the Royal Society and BioMelbourne Network offering events. It has been very insightful to be able to listen to the YouTube web series hosted by the Dean of MDHS, Shitij Kapur 'Life beyond Coronavirus.' You can watch or listen to the latest episode 'What will it take to end isolation?'
I am not alone in feeling like I'm attending more meetings than ever before, now that it is possible to 'Zoom' in and out without leaving my office chair. Somehow the workload has not lessened, and I have not had the time to learn another language! These transitions have been relatively easy, although we've all had to adjust to the new rules of engagement and all the screen time can be quite exhausting.
As a result of travel bans and restrictions on gathering in large groups, many international scientific conferences have been cancelled or postponed indefinitely. I was therefore pleasantly surprised to learn that for instance the American Society for Mass Spectrometry (ASMS) is proceeding with its 68th Annual Conference, but online, 1 – 12th June. They have affectionately named it 'Reboot.' This large conference usually draws 6-7000 people. With no need for a venue, it may even draw larger crowds this year – it will be interesting to watch what happens!
Michael Leeming, Mass Spectrometry and Proteomics Facility, who is preparing a poster for this conference says: "It's an important one for the Mass Spectrometry community since it's the largest by far in the field, as that's where all the new things/most high profile work gets released. It was to be held in Houston but has now moved online and starts June 1st." 
Also, next week's Research Week program, that Michael was involved in organising has been postponed. The MSPF and MA facilities were going to run a program with the Gene Technology Access Centre (GTAC) for a group of high school students, that was to begin next Monday. GTAC is shut down at the moment and no schools are doing excursions.
GTAC, however continues to provide opportunities for students to engage with science and biotechnology.
They have created an exciting suite of courses and games for teachers to incorporate into their classes, or for students to try for themselves. Try the 'Pathogen Attack' game for a bit of light relief between reviewing manuscripts!
It is my privilege to serve on the Advisory Board of GTAC and I encourage you to have a look at their website. They are currently developing a fantastic program to educate students about the science behind COVID-19. We might all learn something!
The imperative to try to make 'remote-schooling' work, has inspired a number of organisations to make resources available for school students. Science education is a whole other challenge, sending kids to explore the 'mini-beasts' in their backyard and rummaging through kitchen cupboards for chemical reagents. 
A number of government and private organisations have stepped up to the challenge to provide and collate resources, for example:
An Australian Government supported initiative called '

Starportal

'.
"The STARportal is Australia's first centralised national portal for exciting and engaging STEM activities from around the country. This searchable database connects parents, students and teachers with their local and online STEM activities in real time. The STARportal has been a collaboration between the Office of the Chief Scientist, Engineers Australia, Telstra, AMSI, BHP Billiton and the Commonwealth Bank, in consultation with the Department of Education to ensure all Australian families have access to any and all STEM outreach activities in their area and online."
Another example is the Australian Academy of Science who for many years have been involved in educating school children in science with the use of amazing media tools. Their two big programs are called Primary Connections for Primary Schools"  Science by Doing for Secondary Schools. A taste of the quality of their media and content can be found on their website.
More locally, CERES environmental park in Brunswick has some activities aimed at primary school children, as does Museums Victoria and Zoos Victoria.
And our nearest neighbour, the Elizabeth Blackburn Sciences is an exemplar for delivering STEM remote learning. They've even supplied microscopes to their students to be able to use at home.
Chris Jones, Deputy Principal at University High and responsible for Elizabeth Blackburn Sciences explains: "Liam (Head of Science) and Alex (Inquiry Learning) have been working above and beyond to shift staff to the online environment, and I believe we are now exemplars of the work schools are completing."
"We have purchased additional tools for the online environment and the staff are developing resources that are customised for our students. Staff are coming to school to record experiments and then provide the video to students. Alex is working with the students at EBS to continue their research work, students are borrowing microscopes and other equipment to set up labs at home and some students are being scheduled to come to the lab to conduct the more technical ones. I hope their mentors are online and supporting them as well."
As for all the work experience program and Open House program that engages the general public hosted at Bio21, it is all up in the air for the foreseeable future, though stay tuned for some innovative ways to deliver a program remotely. Also, 'Big Picture' seminars may yet come online. I invite you to suggest speakers for the 'Big Picture' seminar, including international speakers, to present on topics of interest to our community. Although, we all look forward to getting back to bench and into the field in the not too distant future, we may decide to retain some of the new ways of working, educating and engaging that seemed so unfamiliar not so long ago, but that have unexpectedly ended up enriching our lives.
Stay well and stay connected until we all see each other back at Bio21!
Michael Parker
Director, Bio21 Institute